Nation's leading powersports marketplace launches new motorcycle deals service offering consumers huge discounts
Norfolk, VA (PRWEB) November 04, 2011 – CycleTrader.com will soon launch Fast Deals, offering consumers at least 50 percent off motorcycle parts, gear, and accessories. Motorcycle enthusiasts who register will start receiving weekly email deals in early November; Fast Deals will be emailed to each registered user's inbox and will be available for purchase for seven days.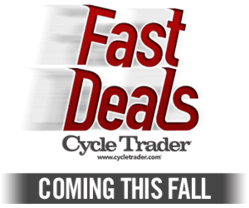 Fast Deals are perfect for motorcycle enthusiasts who are fixing up a bike, buying gear for their motorcycle, or purchasing a gift for a friend who rides. Paige Bouma, sales development manager for CycleTrader.com, said, "This exciting new consumer offering will provide a valuable service to our loyal fans, allowing motorcycle enthusiasts to receive the products they want at an unbelievable price—in this economy, every dollar we can save our customers matters."
Motorcycle owners who sign up now will be one of the first groups to receive CycleTrader's Fast Deals, powered by Sold.com e-commerce solutions. Merchants interested in advertising their deals should contact scott(dot)volmer(at)cycletrader(dot)com or call 866/476-3022.
About CycleTrader.com
Cycle Trader is the leading powersports marketplace connecting buyers and sellers to new and used motorcycles, ATVs, PWCs, and snowmobiles. With more than 160,000 vehicles available, Cycle Trader offers the widest selection of powersports vehicles online. Visit http://www.CycleTrader.com.